Frequently Purchased With a Battle Rope
What You Need to Know About Battle Ropes
Get a crazy metcon workout with the OneFitWonder battle ropes! These poly battling ropes come in 1.5 or 2 inch diameter so you can choose your level of punishment. Both widths are 50 feet long. To use a battle rope, wrap the middle around a pole (or squat rack, or rig). Grab the free ends and start shopping your arms up and down. You'll feel the burn - and fast!
These OneFitWonder battle ropes are made of a synthetic fiber (poly). This makes for a longer lasting, more durable battle rope- without the fiber shedding that is a problem with natural fiber ropes like manila.
Available in 1.5" or 2" diameter (select above): The 1.5" battle ropes weigh 28 pounds and are an excellent rope for all levels of fitness. The 2" battle ropes weigh 53 pounds and are a better option for heavier trainees or trainees that are strong, with good endurance.
Dipped rope ends
One year warranty
Package Contents and Specifications
Contents: 1 - 50' Battle Rope
Weight: 28lbs (1 1/2" diameter) or 53lbs (2" diameter)
Material: Poly-synthetic fiber
Length: 50 feet
Handles Length: 8.75 inches
Color: Black and Green (1.5" diameter) or Black and Yellow (2" diameter)
Warranty: 1 Year
Learn More About the Battle Ropes by Fringe Sport
Learn More About Workouts and Tips for Battle Ropes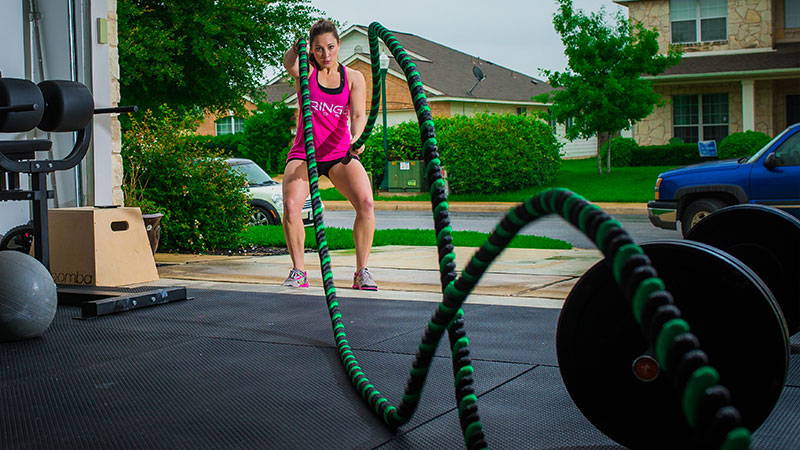 Take Your Conditioning to the Next Level
A tool implemented by MMA Fighters throughout the last decade, Battle Ropes are ideal for training core and total body endurance, as well as explosive power and developing grip strength.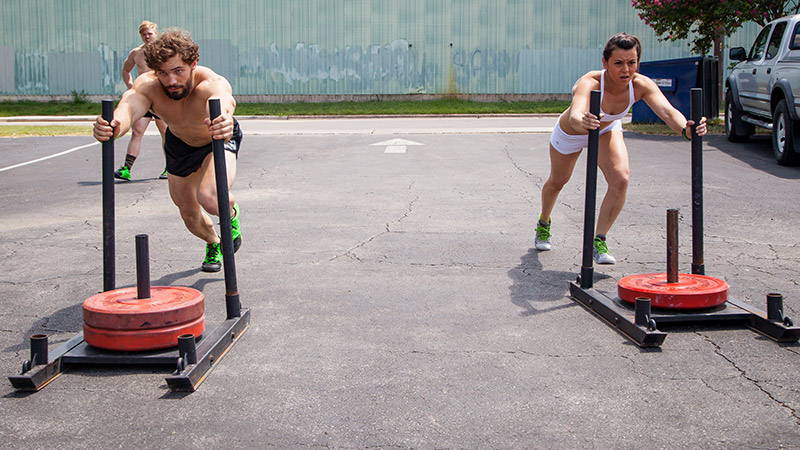 Workout of the Week: Battle Rope / Sled Circuit
Get ready to get the blood pumping with this 3 Round workout using battle ropes and a sled submitted by @rob_boraski42. This workout will hit all the muscle groups, upper body, lower body, and core. It can also be easily adjusted to turn it up a few notches. Add more weight to the sled or do squats while you're using the battle ropes.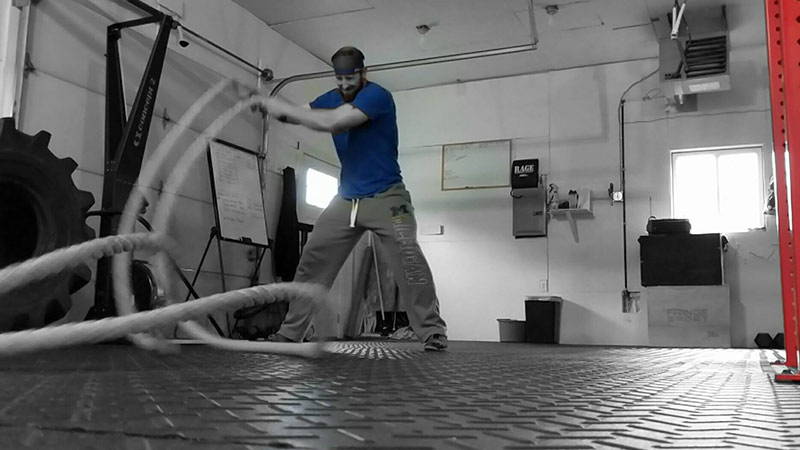 Cody Tustin of Unorthodox Fitness talks about his love for battle ropes and running his gym
"Mixing in implements of [MMA], that's where I first discovered the battle ropes and fell in love with them, was I was watching somebody from the UFC training and I was like, "Oh, that looks fun." That's what everyone always says when they see battle ropes, and they say, "That's the cool, the Instagram, really cool looking thing until you do it and you realize how challenging it really is."