Crazy durable high-density virgin rubber (read: these are going to last)
The only outdoor-approved plates!
Expertly designed curved stainless inset insert to keep your bumpers safe to drop. Drop all the plates, even the 10s!
Low to no odor
Low, dead bounce makes these safe in tight spaces
Plates are in pounds and are sold in pairs
If you would like to Pre-Order the 45lb plates, please text Lauren P.
You can also ask our Sales Team at salesteam@fringesport.com
Because of the inconvenience, she might hook you up with a discount.
These Milspec bumper plates are designed to the exacting tolerances and high durability requirements of the US Army. These bumper plates are used every day by soldiers training for and completing the ACFT- the Army Combat Fitness Test.
Are you training to be an elite soldier- or just training for the fitness level of an elite soldier? These milspec bumper plates are there for you!
Fringe Sport black bumper plates are manufactured to go toe to toe with any bumper plate on the market. They are constructed with virgin rubber, formulated specifically for its durability, density and low bounce. Most importantly, they go through the most customer-focused manufacturing, quality control, and shipping process in the industry so you can rest assured that you are getting the highest quality plates and we are taking the utmost care to ensure they arrive to you in pristine condition!
Quantity
2 - Black Bumper Plates (1 Pair)
Weight Tolerance
+/- 1% of declared weight
Full Diameter
15 - 55 pound plates: 450mm (~17.7 inches) width, 10 pound plate: 450mm (10 pound plate has +- 1% width tolerance)
Bumper Plate Widths
55's - 3.2", 45's - 2.9", 35's - 2.35", 25's - 1.87", 15's - 1.2", 10's - 1.05"
Durometer
10's and 15's are 90 sHA; the 25, 35, 45 and 55 pound bumpers are 85 sHA.
Material
Virgin rubber, stainless steel insert
Warranty
1 Year Warranty on 25's, 35's, 45's and 55's; 90 days on the 10's and 15's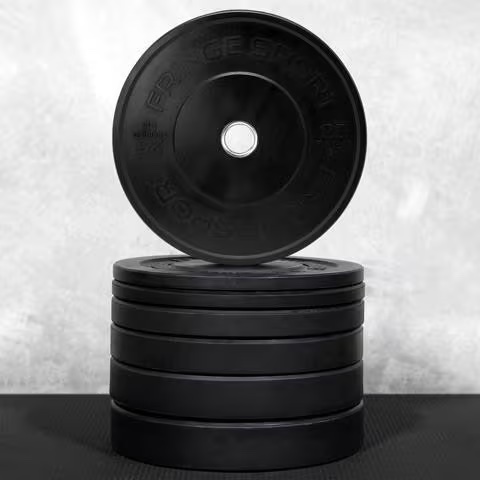 What Is A Bumper Plate?
A bumper plate is a weight plate for Olympic bars that is made almost entirely of rubber (with a steel or brass collar in the middle that accepts an Olympic bar).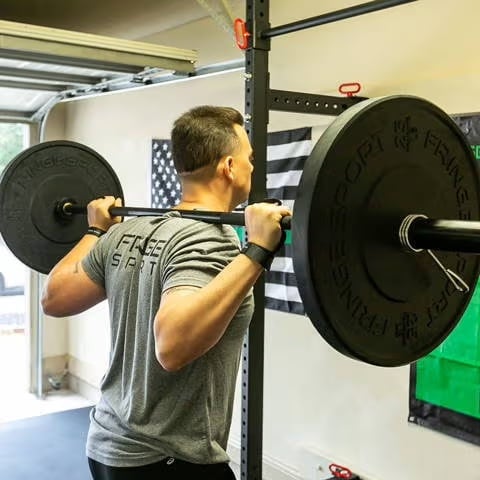 Why Bumper Plates?
The "end state" of the Olympic lifts is overhead or at the shoulder. Many lifters drop the weights from overhead. Since bumper plates are almost entirely rubber, being dumped from the shoulder or overhead will not damage the weights, bar, floor, bystanders, the lifter, etc...
Bumper plates are also great for garage gym use- the rubber construction is much quieter than traditional metal construction.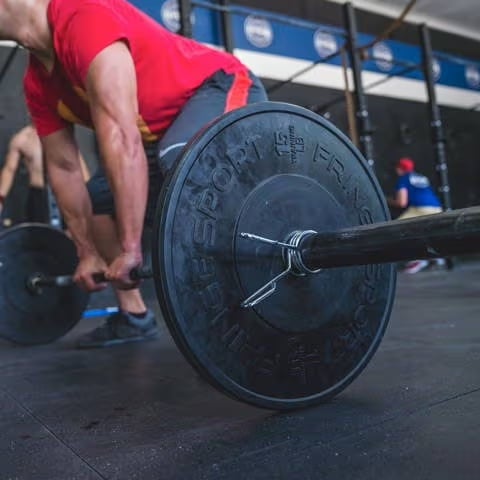 What Exercises Can I Do With Bumper Plates?
Snatch
Clean and Jerk
Press
Thruster
Deadlift
Squat
Bench
Overhead lunge
And even more!
What's The Difference Between Milspec And Standard Black Plates?
At first glance, you'll notice the first difference is purely cosmetic; the Milspec Plates have a matte black finish, vs a glossy black finish on standard black bumper plates. Milspec plates are also slightly thinner than our standard black plates, with a more rounded edge. In the end, both plates are great, and you should be confidant in knowing you are using the best bumper plates on the market today.
55's are 3.2", 45's are 2.9'', 35's are 2.35'', 25's are 1.87'' 15's are 1.2'', and the 10's are 1.05''
The 10 and 15-pound bumper plates are 90; the 25, 35, 45 and 55-pound bumpers are 85
Durometer is a measure of the hardness of a material. It ranges from 0-100, and the higher the rating the harder the material, and the higher the material's resistance to indentation. Anything above 65 is acceptable for bumper plates. Our plates are considered to be excellent.
In general, the lighter bumper plates have a higher durometer reading because they need to be more rigid to withstand the stress of being dropped. Heavier plates have more surface area to distribute the stress, so they do not need to be as hard.
Most Fringe Sport bumper plates are the IWF standard 450mm (~17.7") width in diameter, with a +/-1.5mm variance
The ten-pound Fringe Sport bumpers are 445mm (17.5") in diameter
The ten-pound bumper plates are purposefully 5mm narrower than the other bumper plates so that when you have 10's loaded on the bar, plus other bumpers, the 10-pound plates impact the ground a split second later than the other bumpers. Since the 10-pound plates have the least surface area and are thus the weakest bumpers, this saves stress on your 10 pounders!
Sometimes the bumpers smell due to the way that they are made. It isn't permanent. The best remedy is to let them air out in the sun for about 5 days.
The bumpers are greased as a part of the manufacturing process. Sometimes the factory doesn't clean the plates well enough. Here's what we do to de-grease these bad boys:
We wash the bumpers about 3 times, with paper towels, soap, and water. If that doesn't work, then we use a de-greaser spray that can be purchased at a local home improvement store.
Drop away. We are confident that our 10-pound bumper plates can handle the abuse, and they are backed by our fully comprehensive warranty for 1 year just in case.
Some of our plates go through random spot checks by different quality assurance teams. The star simply means your plate passed inspection. There are no differences in quality between plates with or without stars!
Bumper plates come in a few standard sizes and are sold in pounds with kilogram conversions. Fringe Sport economy bumpers are sold by the pound. Here is a chart with a rough pound and kilogram weights:
| Bumper Weight | Best Weight For: |
| --- | --- |
| 10 lbs ~ 5 kg | Great for teaching or learning Olympic lifts. |
| 15 lbs ~ 7 kg | The same uses as the 10s, but this offers greater durability at only a slightly heavier weight. |
| 25 lbs ~ 11 kg | A very popular weight as they are very durable and throwing these on an Oly bar gives you 95 pounds (Fran Rx). |
| 35 lbs ~ 16 kg | A great size for adding more weight to the bar. |
| 45 lbs ~ 20 kg | The most popular size for gyms - 45's really lets you load up your bar and make some serious strength gains. |
| 55 lbs ~ 25 kg | When the 45s just don't cut it, we have 55lb bumpers to add some serious weight to the bar. |
EXCELLENT: QUALITY, PRICE, TIME
"I've now purchased 55, 45, 35, 25, & 10lb pairs from Fringe. I'm super pleased with every purchase. Delivery is always quicker than I expect & packaged well. The plates feel great in your hand, match well, and are plenty durable. 10lb plates are always super thin, but these feel solid. Love working with Fringe!"
- Kevin B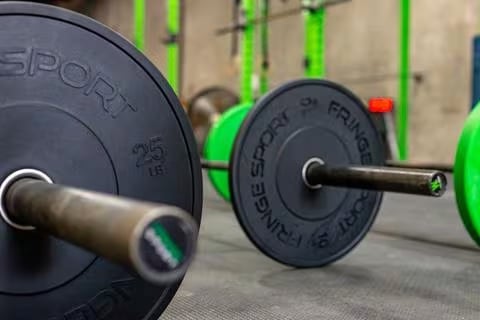 WHY CHOOSE FRINGE SPORT BUMPER PLATES?
Not all bumpers are created equal. Here's why your next bumper plates should be Fringe Sport bumpers:
Fringe Sport bumper plates feature a steel insert that is designed to far outperform the brass bumpers used by the competition. A steel insert will take much more abuse without malforming- and it is machined to exact tolerances to fit all high-quality Olympic bars.
Fringe Sport bumpers use a rubber formulation that combines the ideal mix of low bounce with high durability. Some bumper plates bounce too much- they are potentially unsafe. Other bumpers are too brittle- and they easily chip and fall apart. Not Fringe Sport bumper plates!
Fringe Sport bumpers 10 and 15 lb bumpers are more stable because they have high durability. This makes them more stable than most 10 or 15 lb bumpers which are the most fragile bumper plates due to their thinness.
Fringe Sport bumpers are thinner than many of the competing bumpers- so you can load more weight on your bar!
Fringe Sport bumpers all have the same standard diameter- you can mix and match to load your bar.
Finally, Fringe Sport bumper plates are backed by our no-questions-asked satisfaction guarantee- plus a 1-year warranty (on the 25-35-45-55's). Use them and love them- or send them back free!